West Augusta Guard, Co L, 5th Virginia Infantry
Voici la compagnie en tenue règlementaire de milice, bleu de nuit règlement d'état de 1858
Augusta: "Officers of the West Augusta Guard," by Unknown, 1913

In sending a sketch of Capt. L. H. Waters for the Veteran's "Last Roll" Col. James Bumgardner, of Staunton, Va., includes a group picture of the West Augusta Guard, of whom he is the only survivor, and writes: "Of the officers of the West Augusta Guard, which was organized just before the organization of the 3d Regiment of Virginia Volunteers (afterwards the 5th Regiment Virginia Infantry of the Stonewall Brigade), Capt. W. S. H. Baylor (afterwards Colonel Baylor, of the 5th Infantry) was killed in the second battle of Manassas, Lieut. Henry King Cochran was killed just after the burning of Chambersburg, Lieut. (afterwards Capt.) Thomas A. Burke died three years ago, and Captain Waters recently."
Colonel Bumgardner is mentioned in "War Records," Series I., Volume XII., Part I., page 393, by Colonel Harmon, who states: "It is due to my personal staff to mention Adjt. James Bumgardner in the very highest terms for his gallantry and intrepidity."
Capt. James H. Waters departed this life on May 13, 1913, at the Odd Fellows' Home in Lynchburg, Va., in the eighty-fifth year of his age. He came from New Jersey to Staunton, Va., in 1850. He engaged in business, married Miss Elizabeth Carroll, a native of Staunton, and promptly identified himself with the people of that place. He was one of the original enlisted members of that renowned volunteer company, the West Augusta Guard, which was organized in 1858, was in service during the John Brown raid in 1859, and on during the entire period of the War of the States. It was in service during the late war with Spain, and is now one of the best companies in the volunteer military service of Virginia.
At the organization of the company Captain Waters was elected first lieutenant; and when the company was ordered to Charlestown during the John Brown raid, Capt. (afterwards Col.) William S. H. Baylor (who was later killed at Manassas on August 29, 1862, while leading the Stonewall Brigade in a desperate charge) was prostrated with typhoid fever, and Captain Waters commanded the company.
The West Augusta Guard was of the 5th Regiment of Virginia Infantry, in the Stonewall Brigade. This regiment was organized about the 12th of April, 1861, as "a volunteer regiment of Virginia militia," and William S. H. Baylor, captain of the West Augusta Guard, was made colonel.
On April 17, 1861, the West Augusta Guard, under command of Lieutenant Waters, by command of the Governor of Virginia, left Staunton for Harper's Ferry. The order of the Governor reached Staunton about 8 A.M. of that day, and the company embarked about 6 P.M. of the same day. There were of the company on that April day (1861) one hundred and twenty-five men, rank and file. When the roll was called, one hundred and twenty-three answered to their names and boarded the train. Captain Waters was commissioned as captain in May, 1861, and commanded the company at Falling Waters, First Manassas, during the Romney expedition of General Jackson, and at Kernstown. In July, 1862, he was made commissary of the 5th Regiment with the rank of captain, and was soon afterwards made commissary of the Stone-wall Brigade, and served in that capacity until the close of the war.
Voici un dessin couleur représentant la compagnie en première tenue :

La West Augusta Guard a le même type d'habillement que la compagnie des Mountain Guard, mais avec un pantalon, assorti, nous sommes avant la guerre :
Voici la compagnie au règlement de 1860, à la nouvelle mode fédérale :
En 1860 le règlement de Virginia prévoit de porter des frockcoats bleus à la mode fédérale. Le pantalon pace de bleu nuit à bleu clair :
Private James W. Bare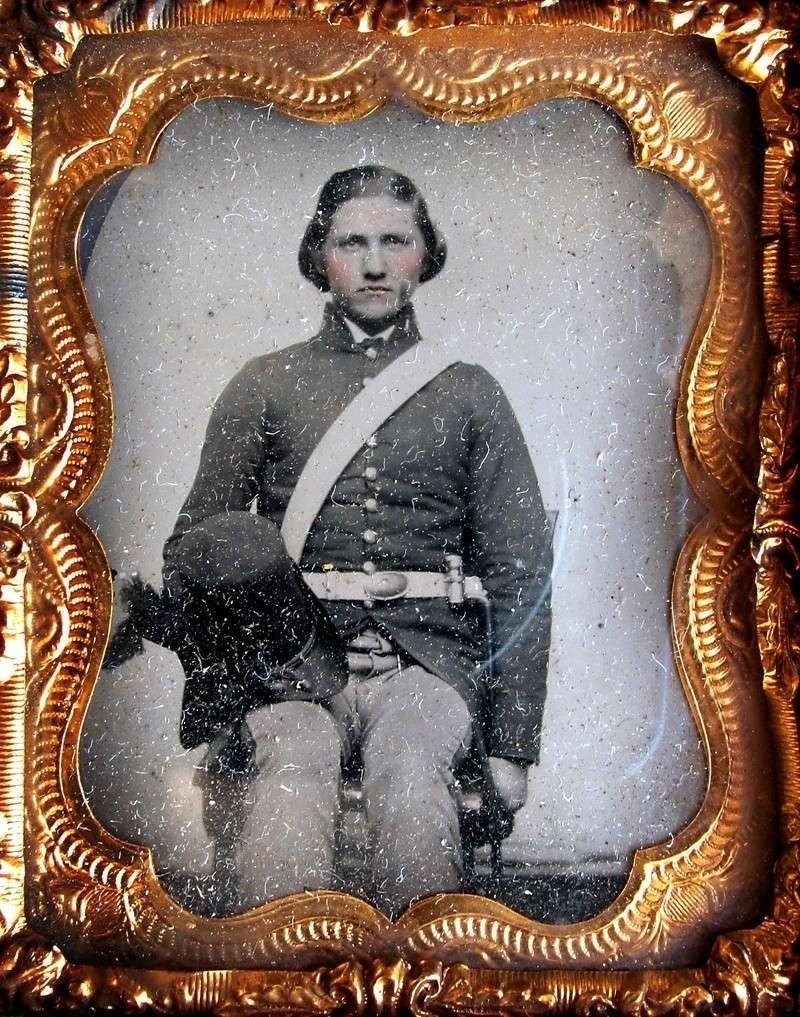 la version colorisée :
Le couvre chef règlementaire est le US Hardee M1858 avec cordon bleu clair et cornet
150 years ago on December 2, 1859 Pvt. James W. Bare, along with the rest of the West Augusta Guard witnessed the execution of John Brown in Charlestown, Virginia. This photograph was struck on December 2, 1859.
James W. Bare was born in Augusta Co. in 1839. He was the son of Henry and Mary Bare. His brother John served also in the WAG. His occupation was that of a tailor. Pvt. Bare joined the 5th Virginia Infantry along with the WAG and fought throughout the Civil War. He rose to the rank of corporal in 1862. He was mortally wounded September 19, 1864 at the Battle of Third Winchester and succumbed to his wounds in a hospital in Staunton on October 19, 1864. He is thought to be buried in Thornrose Cemetery. He was age twenty five.
Voici la boucle un modèle US sans marquage :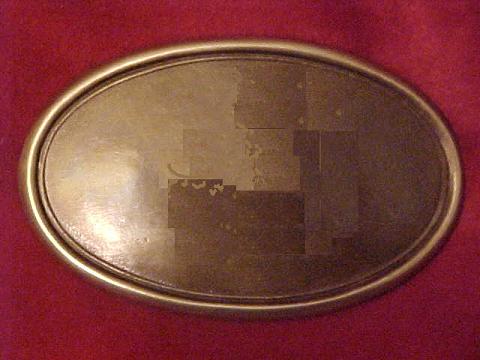 Voici l'interprétation qu'en fait un groupe américain :
Voci la boucle qu'il attribue à la compagnie :
1850 Buckle with black patent leather belt.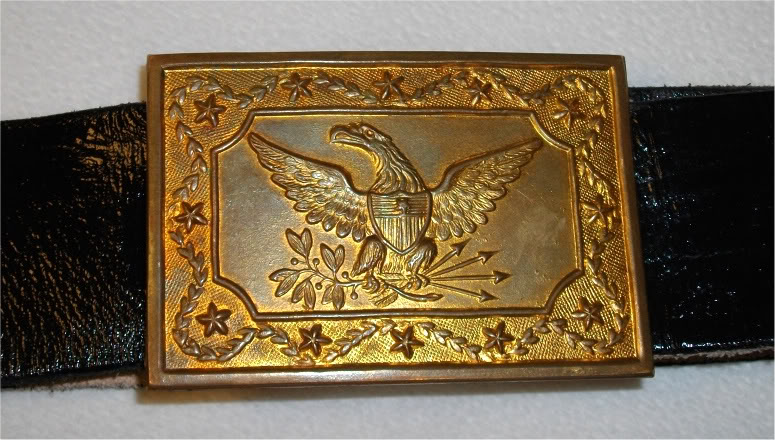 Voici la compagnie en tenue de printemps 1861:
Mountain Guards - April 19, 1861 - "The company left home with only a fatigue uniform (red flannel shirt and gray pants)."
En 1861, la compagnie était équipée d'un uniforme de service : "red flannel shirt and gray pants"
Voici la repésentation de cette tenue telle qu'interpêtée par le groupe de reconstitution allemand :

Et voici ( le premier personnage sur la droite ) un tel soldat dans les rang
Voici à quoi ressemblait le 5th Va Inf après un regroupement de compagnies dispersées courant 1861 :