Civil War - Essence of Coffee
This can of "essence of coffee" was used during the Civil War. It was produced by Boehler & Weikel of Philadelphia and marketed under the brand "George Hummel's Essence of Coffee." Coffee had first been introduced as an army ration under President Jackson to replace liquor. During the Civil War, coffee was very popular with soldiers on both sides of the conflict (though blockades made obtaining it difficult for Confederate armies).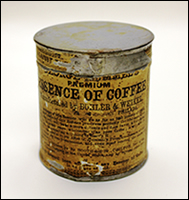 The caffeinated staple was usually provided to soldiers in whole bean form, which they roasted, ground, and brewed themselves. However, in an effort to reduce the time required by roasting and grinding beans, the army began to purchase a form of concentrated instant coffee known as "essence of coffee."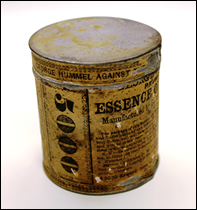 The directions for using the product (printed in both English and German) advise mixing a tablespoon of ground coffee and a half teaspoon of the essence with a half gallon of water for a "middling strong" brew. The can
also boasts an offer of $5,000 for any essence of coffee "as pure as this."